The results of the October walking challenge are in. You can see the results here. After a month of walking, I came in second place and won $40, 5x my initial investment. Not bad, but I invested a lot of time as well to walk, but it was fun. Congratulations to Eric for winning at an unreal pace, although I question his status
as an amateur walker. For the past month, I walked 429,706 steps or an average of 13,861 steps a day. That equates to 187 miles. I walked early morning, afternoon, and late evening. (sometimes all in the same day) I walked in hot weather, and cold days, and even in another state. To give you an idea of what these numbers mean, here is how the number of steps translate into physical activity level.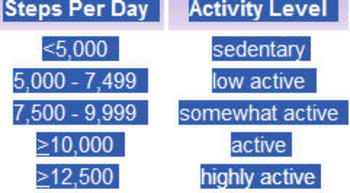 So for the month of October, I was highly active. However, it is a pace I could not keep up, and
have not kept up since the contest ended. My goal for November and beyond is to be consistently in the "somewhat active" to "active range, while going to the gym and other activities for variety. For the month, I lost 0 pounds, probably because all that walking made me hungry. My sweats and shorts(the only pants I wear these days) do fit a little looser, so maybe the weight is being redistributed. Hopefully, the other walking participants will remain active as well.