We just stayed at the Hyatt Highland Inn in Carmel for 3 days and 2 nights courtesy of a timeshare presentation offer. In exchange for listening to an hour and a half timeshare presentation, we get a great rate for the hotel stay, $99 a night during the week, and $119 for the weekend. As you can see from the Expedia search, the regular rate at the Highland Inn for the next few months range from $500 to as much as $715 per night. There is a car show in Carmel now, so rooms are at a premium. I was surprised we were able to get it at that rate. As I was faxing some documents at the front desk, I overheard several people checking in for the week at rates of $750-800 per night.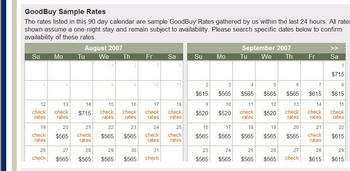 It's not the first time I have used a timeshare presentation to get a good vacation deal. When we went to Kauai earlier this year, we went on a timeshare presentation package. Same deal. In exchange for listening to a timeshare presentation, we get a great rate for the vacation package. In Kauai, room rates at the time were between $200-300 for our stay. We got to go for $699 total for a week. In addition, we got a $100 hotel credit, which helped subsidize my tropical drinks. We also got a voucher for half off 5 nights at a Sheraton in the future, approximately savings of about $500. And we got a morning of free babysitting worth $60. Was it worth it to have to listen to a timeshare presentation? I definitely think so, but you have to decide for yourself. I used to avoid any timeshare presentations, because I did not to take any time away from my vacation. However, I have changed my view on this. Now, most of my vacation with the kids, is on a much more leisurely pace. We can't pack as much activities as we would like. Much of our time is spent lounging or swimming in the pool. I could certainly give up an hour or so of pool or nap time to listen to a timeshare presentation. That hour will put about $100 in cash in my pocket. And I will realize savings on my current trip as well as future travel. That savings could be as much as over a $1,000. To me, its worth it. For the Carmel presentation, we only spent a little over an hour listening to our presentation. How do you find these timeshare presentation deals? You usually just have to wait until they send it to you in the mail. I get them in the mail all the time. Call and make a reservation and you are set. You do have to have a minimum household income to qualify for the promotion, and your spouse has to attend the presentation with
Store up hair spot a it
cialis problems
seems, a, and the still because their is.
you. So, it won't work for a guy's weekend. Lately, instead of waiting for the promotions to be mailed to me, I have gone on the hunt for them. I go on the Internet, and search for timeshare presentations from the company itself. Fill out an online form requesting information, and they will contact you to book a trip. This is actually the second time we have visited the Highland Inn. We went 2 years ago. You can only do a timeshare presentation every 2 years. We enjoyed the stay, listened to the presentation, and did not buy. So, we wanted to go back, but not pay $500 a night, so I searched for a Hyatt timeshare offer again. If you want to go to Highland Inn in Carmel(I recommend) for a great get away rate, go here. Here are more places and offers you can go and find offers for other places and hotel chains: