I have been behind in my blogging lately because I have been out of town for most of the past week. No excuse since I have my laptop with me, but blogging kind of got forgotten when I was travelling. I was in Texas again for business in San Antonio and Austin. I flew into San Antonio last Wednesday, stayed overnight, and had a few meetings in San Antonio on Thursday. After my meetings, I drove to Austin which is about an hour north of San Antonio. Friday, I had several meetings concerning my project there, and my business in Texas was done. However, I stayed in Austin thru the weekend to meet up with some old friends. We went to the Texas-Kansas State football game on Saturday. It was my first time to a UT football game. The good thing about college football is that each team has its own traditions and songs, and it is no different at UT. I have never seen so much "burnt orange" in my life. It was neat to see, but what I will remember from an otherwise unmemorable game is the weather. The game started in 90+ degrees weather. I was actually worried I might get sunburned, but shortly before halftime, it became cloudy and a light shower fell. No big deal as there was showers in the forecast. It actually felt good after being in the hot sun for an hour. At halftime, it rained a little harder, but still bearable. Only 1 of us went downstairs to
get food, and stayed dry. The rain fell harder still. At this point, we still decided to sit tight. Our seats were so high, and there was so much people leaving, it would take 5-10 minutes anyway to get downstairs to cover. By than, the rain would have passed anyways. So, we thought. Than it rained harder, much harder. Along with the rain came heavy winds. Now, it was too late to leave, there was a traffic jam in the aisle. So, we braced ourselves against the far stadium wall to shield ourselves from the rain. It helped only a little. Soon, we were soaked from head to toe. I was worried my phone and camera would be damaged. After about 10 minutes(it seemed longer), the rain let up a little, but at this point it did'nt matter. We were so wet it would take a long time in the sun to dry out. The rain eventually stopped, but we had to sit in wet clothes and shoes for the next few hours.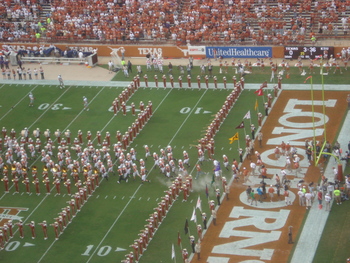 Sadly(for the Horns fans), the game did not end well as the Longhorns got spanked by Kansas State. Adding insult to injury, they had to watch it in very unpleasant conditions. We would have been much more comfortable watching the game in the comfort of our friend's media room. But than, we would'nt have a story to share. All in all, a productive business trip, and a good weekend with old and new friends in Texas.