With both the college and pro football season over, football fans are going through some withdrawal pains. The Super Bowl was particularly exciting
and a great ending to the season. I thought I would share about a college football game I attended back in November, and some things we can learn from that experience. In November I attended the Cal-USC football game in Berkeley with my wife Christine, a USC alum. Christine was the only SC fan in our normal Cal section. Apparently all of Christine's other SC family and friends were fair weather fans and did not want to sit out in cold and rain.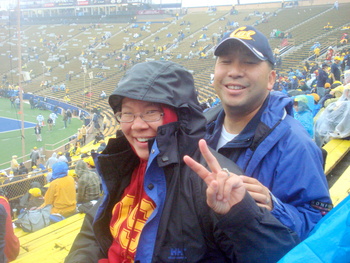 It was the second college football game this year that I attended in bad weather. In October I went to the Texas-Kansas State game and got caught in a typhoon. Unlike that game, the typhoon lasted only about half an hour and we were soaked. At the SC game, it was a drizzly, steady cold rain that lasted all day. This time I was better prepared….. sort of. While I was expecting rain, I did not expect it to last as long as it did. I had a rain jacket instead of shorts and T-shirt I was wearing in Texas when the rains came. I did not bring rain pants, so after 5 hours in the rain my jeans were soaked.
Sadly for me, all my suffering did not lead to a Bears victory, as the Bears once promising seasoning continue to implode. After 5+ hours in the rain and miserable, I just wanted to get inside and out of my cold, wet clothes. But to add insult to injury, my wife dragged me across the stadium to listen to the USC bank perform after the game. I followed her as she ran off, but it was not easy to move quickly with 10 pounds of water in your pants. So, this was not the most fun I have ever had at a football game, but as I stood in the still pouring rain listening to the same band and song I have been listening to for the past 5 hours I thought "This Sucks". However, I also thought being a fan is a lot like being in a long term relationship. How so?
It is not always fun or easy: Sure it was a lot more more going to the games a month before when the Bears were 5-0 and #2 in the country. It was fun when it was warm and sunny and we beat Tennessee to start the season. Now with the season in the dumps and losing in the pouring rain. Not so much. Still, in a relationship or as a fan, you can't be fair weather. Anyone can show up when times are good, but when it tough is when your team or significant other needs you to be there the most, even though it would be easier to watch from a distance.
Sacrifice: Being a fan or in a relationship means you have to sacrifice sometimes. Like sacrificing your comfort to cheer on your team in foul weather. Or going with your spouse to listen to the SC Band in the rain. You sacrifice for your loved ones.
Long term: The fan relationship like the relationship with our spouse is long term. We don't change teams. Over the long run, there will be periods of happiness and elation, but also seasons of anguish and bitter disappointment. Yet, we remain commitment to our team. We continue to persevere, sacrifice, and give to our team even when its not easy to do so. Why? Deep down, we will always love and support our team.
So with Valentine's day past, we should remember that in our relationships that not everyday will be about flowers and candy. Some days it will be hard to love, but we still do. Its not always easy being a fan.