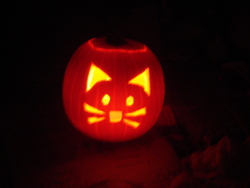 Halloween is kind of a big deal in our house for the kids. This year was no exception as we had parades and parties at both preschool and kindergarten. The costumes this year were an M & M for Marcus and a watermelon for Mia.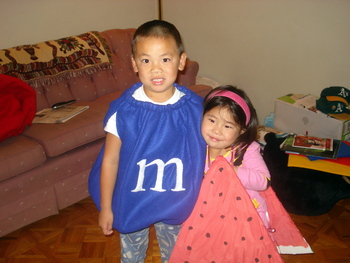 This year also marked the first year that the costumes were made and not bought at the store. Thanks to Christine and my mother in law for making the costumes. They turned out well. Marcus teamed up with his Auntie Lisa as usual to be matching M & M's. Good thing she is a good sport. Mia wanted
to be a princess, but we told her there would be a million other princesses out there, and it would be too cold to wear a dress. So, she decided on a watermelon, and would not change her mind, so we had to make a watermelon.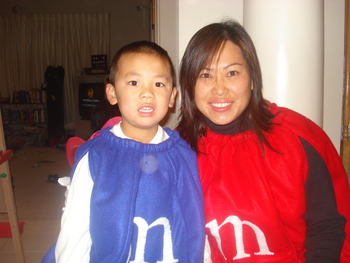 Mia actually had two costumes. She was a horse for her preschool party because she could not sit down or play in her watermelon costume. Here she is with her friend Elijah who happens to be a cowboy riding a horse.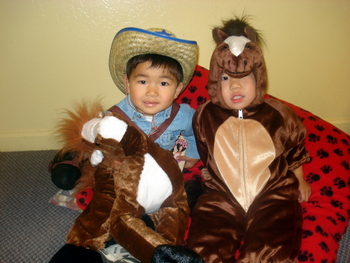 Here are some pictures from Marcus' school parade.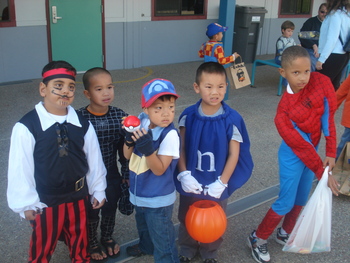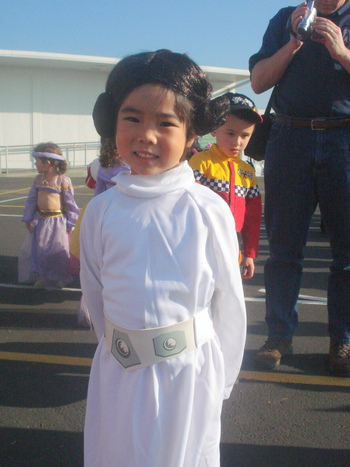 There are a million princesses in the parade, but only two Princess Lea, with Samantha being the best one. Halloween night turned out to be a crazy affair with dinner at our house for 11 kids and their families. Yes, 11 kids ranging from 5 months to 5 years old, including a pair of twins. After dinner, we spent another half an hour tracking down all the kids and getting ready to go.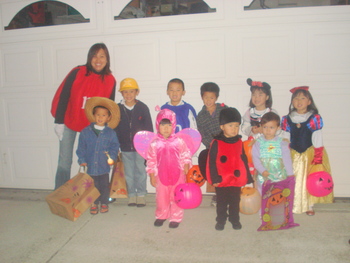 Finally, we were ready to go. That's 9 kids plus Auntie Lisa in the picture. Missing were Mia who did not want to take a picture and Naomi who was a latecomer to the party. The first few houses was total chaos with 10 kids and 4 adults jammed at the front door. The problem was the kids did not move after getting their candy. They just stood at the door waiting for more creating a traffic jam. Fortunately, after the first few houses, the older kids ran off ahead and we broke off into two groups of older and younger kids. I stayed with the group of 4 younger kids. This group quickly grew tired of walking after a trip up and down the street, and we retreated home. The older kids ventured on further.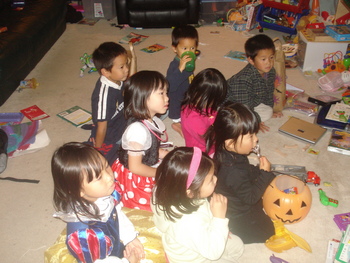 After a fun time of trick or treating, it was time to settle back in front of the TV, and sort out the candy.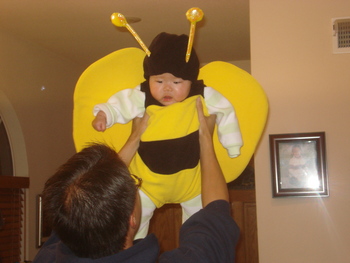 Our youngest member of the group Naomi enjoyed her first Halloween, and stayed out longer than anyone else. It was a long and festive day of Halloween activities, and I was tired. So, I gently reminded everyone it was a school night as I ushered them out the door. See you next year.