Growing up in California hockey was not a sport I followed or played.  As a kid I focused on the major sports of baseball, football and basketball.  I have only started watching hockey in the past few years.  I'm still not a big fan, but I enjoy and understand the sport a little better now.  It is a fast paced violent game with a potential for many injuries not unlike football.
What I like about hockey is that it really is a team game.  When someone scores a goal in hockey it is a team celebration.  In other sports there is a lot of individual attention such as finger pointing and taking off your helmet.  Not so in hockey  That is because it really is a team effort to score a goal.  While there can be great individual performances more often it is not a single player that can dominate a game.  Only a focused team effort can bring victory.
Hockey has a lot of traditions and history too that I am just learning about.  For example after each playoff series the teams always line up to shake each other's hand .  Just like in little league, good sportsmanship.  Despite trying to kill and maim each other for seven games, the hand shake says good series and now its over.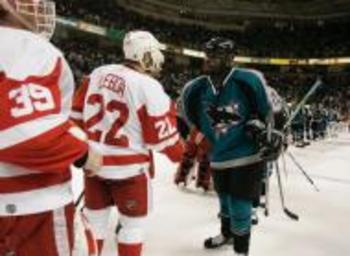 Last year I grew a playoff beard to support the Warriors in the playoffs.  That is actually a hockey tradition. Even though I am cheering on the Sharks in the playoffs, I am skipping the beard this year.  It did not get that many favorable reviews.
With the Warriors out of the playoffs I am watching hockey and cheering on the San Jose Sharks in the playoffs.  The Sharks just beat the Calgary Flames in a hard fought and exciting series.  Onto round 2 and the Dallas Stars.  If you are new to hockey, give it a try.  You might come to enjoy the sport like I did.  However I pretty much watch anything…..even spelling bees.