During the Memorial day weekend we went to our church family camp as we have been doing for the past five years. Both our kids started going when they were less than a year old. In fact Mia was only 3 months old the first time she went to family camp. It was quite a challenge bringing young kids to camp but of course it has gotten easier over the years as the kids grew older. So to give ourselves a bigger challenge we decided to take another kid with us Vanessa our friend's seven year old. Its not much more of a challenge since Vanessa is well behaved, can take care of herself, and actually listens to us unlike our own children. It is not the first time we have had to watch other people's children. Our house is like an unofficial drop in day care center sometimes. It is not uncommon for 2, 3 or 7 kids to be dropped off at our house on short notice while their Moms do who know what for several hours. In fact one child
I do not recognize as my own just ran by me screaming as I am typing this. I have suggested that we make it an official day care center and charge accordingly but my wife being the kind soul she is just continues to take them in for free. To be fair we have dropped off our kids on occasion at other people's houses while we run errands or catch a movie, but it is certainly not nearly as often as we take in kids. It is not a fair trade, but Moms don't keep track of these things. However I do. Still taking someone's child for the weekend is a new experience for us. Despite having a well behaved easy child to care for you do things a little differently. First you are very watchful of the new child. You want to make sure she is well cared for and having a good time because you don't her to speak badly of your parenting skills when she gets home. You don't worry about that with your own children. Secondly, you try to be more patient and show more restraint with your own children than you otherwise would. You don't want the new child to tell everyone how "Uncle Al completely lost it". So you try to be on your best parenting behavior and I think we did a decent job.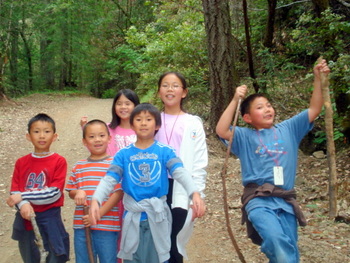 The speaker at our camp Dr. Bruce Fong was outstanding. I was very impressed of how he was able to talk so freely and easily for an hour without any notes. Dr. Fong is obviously a very gifted and talented speaker. It also turns out he is equally good at writing. He has a blog which you can check out here. Who does'nt have a blog these days? What is impressive about his blog is that he posts nearly every day despite a very busy schedule.
Bloggers know how hard that is. Not only does he blog frequently, he does it well. His writing style is very eloquent and easy much like his speech. If you take a look at his blog you will find a lot of spiritual truths and encouragement but you will also find entertaining stories such as "Wow! Kristin Can Dance".