One of the big thrill in visiting the Montery/Carmel area is the chance to try one of the many great restraunts there.  There are so many that its difficult to choose.  Because we got a $100 gift certificate for attending the timeshare presentation at the Highland Inn, our choice was easy to make.  We had to have dinner at the Pacific's Edge  at the Highland Inn.  We have eaten here before,  and enjoyed it.  The food is excellent, but like the resort, it is the breathtaking view that adds a bit extra to the meal.  The Pacific's Edge is an approriate name because the dining room is literally at the edge of the Pacific Ocean.  Here is a view from our table.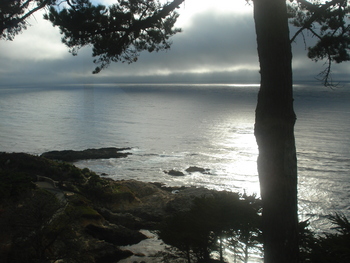 Had the food been a little under par, it could have been forgiven due to the excellent views, but the food was not under par.  It delivered as promised.  Wine Spectator magazine rated the Pacific's Edge "One of the top 20 restaurants in the United States".  High praise, maybe a bit too high, but it was still very good.
After some cocktails while taking in the view, we started with appetizers.  Christine had the "Steak and Eggs", which is a Carpaaccio on a quiche with a Dijon sauce.  Very tasty.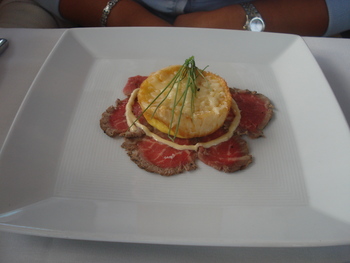 For my appetizer, I had the Butter Braised Maine Lobster.  It is lobster on a potato risotto, with pearl onion and a sweet corn bisque.  I almost did'nt order this because of the $28 price, but since our meal was subsidized and this is not something you get every day, I ordered it.  It was well worth it, and the highlight of the meal for me.  The risotto was a bit crunchier than I usually like it, but the corn bisque and lobster was excellent.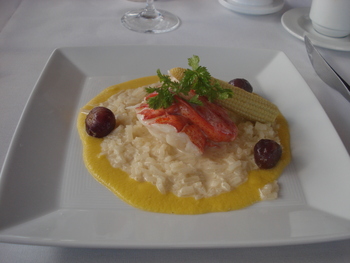 For our entrees, Christine had the Rack of Colorado Lamb, and I had the Smoked Duck Breast Confit.  Both very good, but I would'nt say extraordinary.  Maybe the bar was set too high by the appetizers.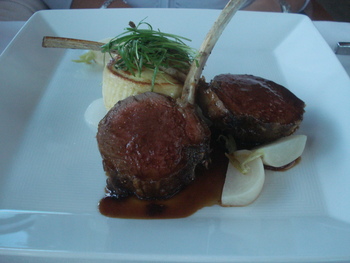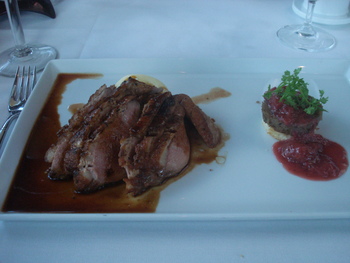 It was now dusk, as the dining room was filling up.  Here is another look at the view.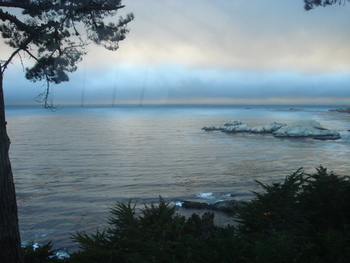 For dessert, we shared a apple crisp with a lemon ice cream.  The ice cream was very good, but the apple not quite tart enough for me, but it still good.  The porton was decent, but looked small because it was served on a gigantic bowl.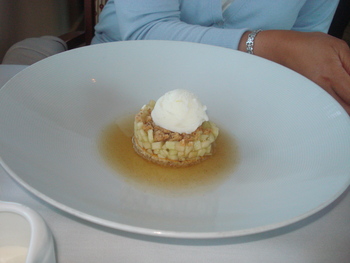 All and all, a very enjoyable meal and evening.  Dinner for two with tax and tips came to $189, but with the $100 hotel credit, it was only a very acceptable $89 for a very fine meal.  It was nice to  enjoy a fine leisurely dinner without tending to kids, and cleaning up after them.  I would recommend Carmel and the Pacific's edge for a couple's weekend get away.  I will share how to do it without breakin your budget in a future post.