We went out for our first Dine About Town dinner of the month last week. I have written about about Dine About Town before. It is an opportunity to try a new restaurant in San Francisco for a reasonable price. For our first dinner of the month, we tried the Lark Creek Steakhouse located in the Westfield San Francisco Center conveniently located by the Powell Street BART station. Joining Christine and I were my former coworker at BART Rose, and her husband Jojo. I had high expectations for Lark Creek Steak because it was voted by Esquire Magazine as one of the best 10 new restaurants of 2007. The odd thing about Lark Creek Steak is that it is located in a mall. You wouldn't normally expect to find good food at the mall. However, the Westfield San Francisco Center is a high end mall with Bloomingdale being the main anchor store. Even the food court is better than most malls. Rather than the typical fast food burgers you find at most mall food courts, there is viagra online pharmacy a variety of ethnic foods, and no chain restaurants. They are more like mini restaurants. I will have to try the food court food some day, but we did pick up some Beard Papa's cream puffs to take home. Lark Creek Steak is located on the 4th floor of the mall along with the other fine dining restaurants. Most malls don't have a fine dining area. Here is the Dine About Town menu. First Course roasted almond and cauliflower soup – heirloom cauliflower, romanesco, parsley oil, croutons or wild arugula salad with citrus vinaigrette – shaved fennel, blood orange, feta cheese
Second Course blackened mahi mahi – roasted parsnips, grapefruit and fines herbs or 9oz new york steak – whipped "baked potato", grilled chicories
Third Course classic butterscotch pudding – whipped cream, grated chocolate or pecan strudel – thyme, honey, dark chocolate, fillo crust, creme fraiche sorbet In addition to the above menu for $31.95, there is a price fix option on the regular menu for $33.95 with the entree being Pot roast. So, you actually have a choice of 3 selections for about the same price. Of course I chose the steak. The salad was very tasty, a good blend of tangy citrus fruits, and feta sildenafil classification cheese. To give you an idea of what a good value Dine about Town is, the 9 oz steak would cost $26.95 alone if ordered cialis free coupon off the regular menu.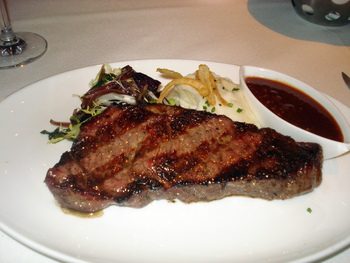 I was not sure if a 9 ounce steak would be filling enough, but it turned out to very filling. Quality over quantity is certainly preferred by me these days. The steak was very tender and http://canadiancialis-pharmacyrx.com/ tasty even without the steak sauce. I had the Lark Creek steak sauce which was like BBQ sauce, nothing special. The steak was flavorful enough without the sauce, but you do get your choice of 5 sauces. Rose had the blue cheese butter sauce which she said was excellent. I'm not a big blue cheese fan, but I may try that next time.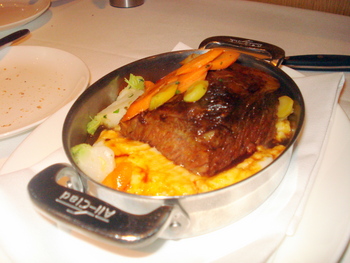 Christine did not order from the Dine about Town menu as she sometimes does, but it was ok since it was only a few bucks more to order from the fixed price menu. She had the pot roast and it was a very sizable serving. And very flavorful. For dessert, half of us had the butterscotch pudding and the other half had the Pecan strudel. I had the pecan strudel, but the dessert choice should have been the butterscotch pudding. It was very good, not too sweet, and the texture smooth. The pecan strudel was only "ok". I would wholly recommend Lark Creek Steakhouse for a fine dining experience, and if you go before the end of the month, it is very affordable with Dine about Town. The only negative was the service was a bit uneven. The waiter was a bit impatient with us as we were waiting for one more guest to arrive. And there was a long lull between the entree, and the dessert as well as getting the bill. We really did not mind that much as we had sildenafil effect time a good time chatting, and catching up with one another. However the service could have been a bit better in a high end restaurant. I hope you enjoy my restaurant reviews, but I'm not that good of a writer to be able to capture the essence and flavor of a meal. So, pictures are necessary to tell the story. Unfortunately, sometimes my dinner companions(my wife) is a little embarrassed when I pull out my camera, and the flash goes off in a dark restaurant. However, it is necessary to tell the story, and I try to be discrete as possible. It may not even be that uncommon to take pictures of your food. John Chow caught this fellow diner snapping a picture of her food. Here is John's review of a restaurant in Dine Out Vancouver, Vancouver's version of Dine About Town.