At a recent meeting of young families at church a survey was taken. Each couple was asked "What would your dream date be?" An open ended question with thousands of possibilities. Sadly the overwhelming number one answer was "Anywhere without the kids". It is a sad commentary of how low our expectations are of a dream date once we have kids, but those with kids understand the sentiment. We are lucky that we get more than our fair share of time away from the kids thanks to our generous and willing babysitters, the Grandparents. One event that we always look forward to each year with 3 to 4 other couples is Dine About Town. Dine about town happens every January in which participating restaurants offer fixed priced 3 course meals. Dinner this year cost $34.95 up a few dollars, but still a bargain compared to the regular price at some of the best restaurants in the City. It is a chance to try out
new restaurants at a very cheap price. More importantly it is a time to enjoy adult conversation and a good meal. Of course without kids. This year we chose Forbes Island Restaurant. The unique thing about Forbes Island is that it is actually on an island in the San Francisco bay across from Pier 39. It has its own boat service. You just call them from pier 39 and they pick you up. On a clear day the views must be spectacular. Unfortunately, on the day of our dinner was not a clear day. It was raining all day so we were not anxious to venture into the bay in such stormy weather. So we decided to make a last minute change of plans and phoned around trying to secure a dinner reservation from the Dine About Town choices. We got a reservation a little later at the Grand Cafe in the theater district. I ate there a few years ago but did not remember much about it. I was still a little disappointed in not being able to go to Forbes Island, but Grand Cafe was a very pleasant surprise and the quality of food did not disappoint. We arrived with another couple about an hour before our reservation which was fine because the other couple was running late anyways. So we had an hour of appetizers and drinks. The appetizers of clams and bread was excellent. It bought back good memories of a trip to France and Belgium many years ago before kids where we had clams almost every day. The appetizers almost filled us up too much….almost. Moving on to the Dine About menu, it was one of the better selections among the Dine About Town restaurants. Most Dine About menus have a choice of 1 or 2 entrees, but this one had 4 and we were able to pick any dessert off the regular menu. Here is the regular menu. As you can see the Dine About meal is an excellent value. I forgot to take pictures of our entrees which was excellent because I was too busy enjoying the food and the company, but here are some pictures of the appetizers and dessert. Flammenküche:wood oven crispy flatbread, tri-pepper gastrique, Fuyu persimmon, walnuts, goat cheese cream. This was a big winner.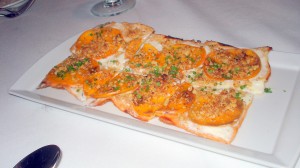 Tarte Tatin aux Pommes Baked upside down Granny Smith apple tart, honey vanilla ice cream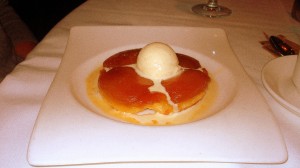 Tarte de Meringue de Citron Meyer lemon meringue pie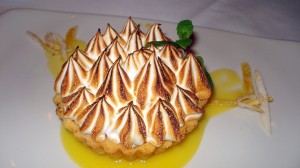 Friandises Assortment of small cookies & treats (easily boxed "to go for the show")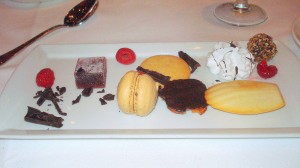 A very fun and relaxing evening and we look forward to next year's dinner….also without kids.