This blog post represents a milestone for this blog. It is post # 200 since I started blogging in February of 2007. Thanks to all my loyal readers who have followed my inconsistent blogging over the last few years. This blog has been inconsistent in both frequency of posting and content. It is ironic that the things I blog most frequently about such as work and family take up most of my time and prevents me from blogging more frequently. While I think I am a decent writer I am not good enough of a writer to be able to blog quickly and coherently. It takes me awhile to get my ideas and thoughts out. Hopefully with practice I can blog faster as well as write better. The topics on this blog carries a wide range of areas. Things I think are interesting vary greatly over the years. Thanks for putting up with the randomness of my blogging. Keeping with the tradition of randomness on this blog I will talk about my trip to Children's Fairlyland in Oakland on this blogging milestone.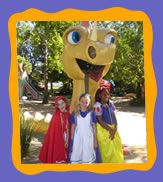 Children's Fairlyland is located on the shores of Lake Merritt in Oakland. It is a children's literature theme park for little kids and ideal for young kids under the age of 5. There
are rides and puppet shows for the kids to enjoy. Last week I accompanied my daughter Mia's preschool class to Fairlyland. It was her preshcool's end of the year field trip. Fairlyland has been in Oakland since the 1950's and I remember going many times when I was young. Of course it seemed a lot bigger back than. The rides seemed huge when I went in my youth. Now the park seems really small. Even at a slow pace you can cover the entire park in about 45 minutes.
Going back to Fairlyland made me nostalgic for my early years of life. Not only did it bring back memories for me, it was also fun to see Fairlyland thru the eyes of my daughter. To her it was a big deal and it was a big deal for her to have me there with her. Besides bringing back fond memories for me it was a little sad because it would be quite awhile before I would be able to experience Fairlyland again. You see, Fairlyland is only for very young kids. I think 2-3 years is about the perfect age. Even at the age of 5 the kids are a little old for Fairlyland. Sure, they had fun but they will outgrow Fairlyland real fast. So with Mia ready to go to Kindergarten I was ready to say goodbye to preschool days and Fairlyand for good. Or so I thought.
It turns out that there will be more preschool and Fairlyland days for me in the future. If you have not figured out the point of all this….We are expecting baby # 3. No I'm not kidding. It is not a publicity stunt to liven up post #200. I only wish. While I have known about this for awhile now, it has taken me some time to get over the shock and to be able to write about it. For awhile I had no thoughts on it, just feeling numb.
I am now getting used to the idea and my other kids are getting excited which is causing me to be more excited. Thanks to all the other friends who have encouraged me by saying things like "3 is the new 2" and "Going from 2 to 3 is an easy transition". Even though they are well meaning, "3 is the new 2" makes no sense at all. I believe the old saying "Misery enjoys company" applies in this case and they are excited to have a new member in their club. So I will be joining my friend Norm in the expectant father club.
Even though this will be my third child I feel like a first time Dad like Norm. That is because it has been nearly 6 years since my last child. Everything I knew about babies and young children I had deleted from my memory because I thought I would not have to use that information again. What I do remember about babies has been filed under "trivia" in my brain in case I am asked baby questions on a game show. So I have to relearn everything. I don't remember how the strollers or car seats work. I have to find that book on a 1001 baby names. Maybe I'll just skip the names and go to a numbering system and just call this one "3".
So it looks like I will be back in preschool and Fairlyland in a few years. But before that diapers and potty training all that stuff I don't quite remember about. But I will soon. So that's my big announcement to mark 200 posts and over 2 years of blogging. At least I will now have more material to blog about, but will I have the energy or time to do so? Pray for me us.